Autoinflammation & PLCG2-associated Antibody Deficiency and Immune Dysregulation (APLAID)


Acronym:
APLAID

SAID group:
PLCG2-associated
Gene:
PLCG2 mutation
Inheritance:
Autosomal dominant.
Ethnicity:
Unknown
Frequency:
Unknown but rare.
Timing of symptoms:
Recurrent skin lesions, chronic inflammation, and progressive eye complications from this disease. [66] [67] [68]
Age of onset:
Onset in infancy with recurrent skin lesions, arthralgia, eye inflammation, and infections. Some with intestinal symptoms. [68]
Skin cutaneous:
Erythematous plaques and vesiculopustular blistering rash that intensifies with heat & sun exposure. Cellulitis often develops with rashes. [66] [67]
Neurologic:
Not noted. [66] [67] [68] No fevers noted as a part of this disease (but fevers may be present with infections). [66] [67] [68]
Auditory:
Not noted. [66]
Ophthalamic:
Many develop corneal erosions, blisters, ulcerations, intraocular hypertension, and/or cataracts. [66] [67] [68]
Cardiopulmonary:
Mild humoral immunodeficiency with increased frequency of sinus and/or respiratory infections or interstitial pneumonia. [66] [67]
Abdominal:
Some with bouts of abdominal pain, bloody diarrhea, enterocolitis, or ulcerative colitis. [67] [68]
Lymphatic:
Not noted. [67] [68]
Joints bones muscles cartilage:
Not noted. [67] [68]
Vasculitis:
Not noted. [67] [68]
Amyloidosis:
Not noted. [67] [68]
Abnormal labs:
Low circulating IgA, IgM antibodies, decreased class-switched memory B cells & NK T cells. ANA negative. [67] [68]
Search Keywords:
Autoinflammation and PLCG2-associated Antibody Deficiency and Immune Dysregulation, APLAID, PLCG2, PLCG2 associated, antibody deficiency, dysregulation, erythematous plaques, plaques, plaques, vesiculopustular, vesicles, heat rash, sun rash, solar rash, sunlight rash, UV rash, ultraviolet, pustules, cellulitis, corneal erosions, blisters, blistering, ulcerations, intraocular hypertension, cataracts, immunodeficiency, sinusitis, pneumonia, respiratory infections, pulmonary infection, abdominal pain, bloody diarrhea, diarrhea, enterocolitis, ulcerative colitis, colitis, IgA antibody, Ig M antibody, sinus infection, stomach pain, gastrointestinal pain,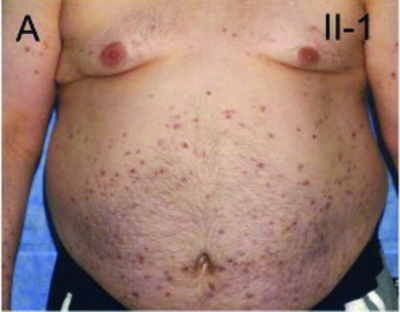 Photo credit:

Zhou Q, Lee GS, Brady J, et al. A hypermorphic missense mutation in PLCG2, encoding phospholipase Cγ2, causes a dominantly inherited autoinflammatory disease with immunodeficiency. American Journal of Human Genetics. 2012;91(4):713–720. Fig.1. http://www.ncbi.nlm.nih.gov/pmc/articles/PMC3484656/
Resources:
Coming soon!