Neonatal Onset Multisystem Autoinflammatory Disease - aka Chronic Infantile Neurological Cutaneous Articular Syndrome (NLRP3-AID-severe)


Acronym:
NOMID/CINCA (NLRP3-AID-severe)

SAID group:
Cryopyrin Associated Periodic Syndromes (CAPS) NLRP3-associated Autoinflammatory Diseases (NLRP3-AID)
Gene:
NLRP3
Inheritance:
Autosomal dominant. Most cases are due to spontaneous mutations. Very few familial cases. [1]
Ethnicity:
Any­, present in all races. [1]
Frequency:
Estimated frequency 1:1 million, mostly due to spontaneous genetic mutations. [5]
Timing of symptoms:
Continuous, with increased symptoms and fever during flares. [1] Chronic inflammation noted between flares.
Age of onset:
Neonatal/early infancy. Rash, symptoms, and abnormal labs are often present at birth. [1], [6]
Skin cutaneous:
Ever-present, urticaria-like rash with increased neutrophils at the eccrine coils. Rash increases with flares. Some patients have cold-induced flares in addition to constant symptoms. [1] [4] A few with apthous ulcers. Negative ice cube test.
Neurologic:
Headaches, fever, fatigue, chronic aseptic meningitis, and elevated or high intracranial pressure (ICP). Papilledema is common. Many have mental delay and/or cognitive delay, impairments, or intellectual disability. A few have seizures. Strokes are rare. [6]
Auditory:
Many have increased sensorineural hearing loss, starting in infancy/early childhood. [1], [6]
Ophthalamic:
Papilledema, uveitis, iritis, conjunctivitis. Some with retinal scarring, corneal haze or vision loss. [6], [26]
Cardiopulmonary:
Some may have a pericardial effusion, or pericarditis. [1]
Abdominal:
Some patients have hepatomegaly, splenomegaly, or hepatosplenomegaly. Nausea, vomiting and abdominal pain with flares, or with elevated intracranial pressure (ICP). [6]
Lymphatic:
Splenomegaly. Many have generalized lymphadenopathy. [1]
Joints bones muscles cartilage:
Joint pain, knee valgus or varus, limb length differences are common. Some have frontal bossing of the forehead, saddleback nose, contractures, and/or have clubbing of the fingers. [1] Short stature, growth delays, failure to thrive, arthritis, and osteopenia are often noted.[1],[26] <50% of patients knees or joints have bony overgrowth (usually on the patella) with chondrocytes that are not well differentiated, plus abnormal enchondral bone formation (no inflammatory cells), along with the premature fusion of physis. [79].
Vasculitis:
Vasculitis rarely develops. [1]
Amyloidosis:
Elevated SAA. Secondary amyloidosis in <2% pts. [1], [6]
Abnormal labs:
Chronically high: ESR, CRP, SAA, anemia, granulocytic leukocytosis. Many patients have elevated IgG, IgA and IgM [1], [6]
Search Keywords:
NOMID, CINCA, neonatal onset multisystem inflammatory disease, neonatal onset multisystem inflammatory disorder, CAPS, cryopyrin associated periodic syndrome, chronic infantile neurological, cutaneous and articular syndrome, cryopyrin, fever rash hearing loss, aseptic meningitis rash fever, papilledema rash fever, chronic infantile neurologic cutaneous and articular syndrome, NLRP3, anemia, amyloidosis, valgus, varus, frontal bossing, saddleback nose, contractures, clubbing, short stature, growth delay, failure to thrive, arthritis, osteopenia, bony overgrowth, chondrocytes, enchondral, corneal haze, uveitis, iritis, cold induced, cold induced urticaria, uriticaria-like rash, headache, negative ice cube test, intracranial pressure, ICP, cognitive delay, mental delay, delay, cognitive, mental, hepatomegaly, splenomegaly, hepatosplenomegaly, vision loss, retinal scarring, rash fever hearing loss, fever rash, fever, rash fever hearing loss, optic nerve swelling, papilledema, patella, disability, vomiting, abdominal pain, cold-induced flares, seizures, vasculitis, limb difference, sensorineural, sensorineural hearing loss, amyloid, MWS/NOMID crossover, cartilage, nose, hereditary periodic fever, periodic fever, recurrent fever, cold bumps, CIAS1, NALP3, deafness, deaf, hard of hearing, retardation, large knees, enlarged knees, swollen knees, large patella, patella, knee cap, kneecap, joint pain, large liver, large spleen, psuedotumor cerebri, developmental delay, stunted growth, muscle contractures, enlarged liver, enlarged spleen, stiff joint, pink eye, enlarged liver and spleen, large liver and spleen, muscle weakness, seizures, stroke, leg pain, elbow pain, red eye, meningitis, aseptic meningitis, fever recurrent fever, periodic fever, cold-induced, cold induced, cold triggered, cold-triggered, nasal bridge, saddleback nose, saddleback, scooped nose, flat nasal bridge, frontal bossing, larger forehead, enlarged ventricles, hear, cannot hear, hard to hear, cold-triggered fever, cold, cold rash, conjunctivitis, red eyes, amyloidosis, SAA, IgG, IgA, IgM, lymph, lymph node, lymphadenopathy, NLRP3-AID, NLRP3-AID severe, NLRP3 AID, NLRP3 AID severe,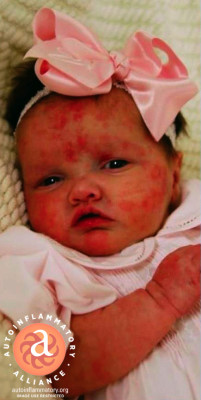 Photo credit:

Autoinflammatory Alliance image collection. Voluntarily supplied by patients. Image use restricted - contact karen@autoinflammatory.org
Resources: