Muckle-Wells Syndrome (NLRP3-AID-moderate)


Acronym:
MWS (NLRP3-AID-moderate)

SAID group:
Cryopyrin Associated Periodic Syndromes (CAPS) NLRP3-associated Autoinflammatory Disease (NLRP3-AID)
Gene:
NLRP3
Inheritance:
Autosomal dominant. Spontaneous mutations, and some family groups with MWS spanning generations. [1]
Ethnicity:
Affects all races, but many are of European descent. [1]
Frequency:
1:1 million, but it may be more frequent. Some large family groups. [5] Frequency of CAPS in France is 1:360,000. [55]
Timing of symptoms:
Often lasts 2-3 days. Random onset–flares of fever and symptoms are often triggered by cold or cooling temperature. [1]
Age of onset:
Infancy, but a few present with symptoms later in childhood or adolescence. [1]
Skin cutaneous:
Urticaria-like rash with increased neutrophils at the eccrine coils. Rash and flares can be cold-induced, or from unknown triggers. [4] Most have a daily rash that increases with flares. [1] A few have apthous ulcers. Negative ice cube test.
Neurologic:
Some have headaches, fatigue with fever and flares. It is uncommon to have many other central nervous system symptoms. [1] A few patients have a MWS/NOMID crossover of symptoms.
Auditory:
Many have increased sensorineural hearing loss, starting in adolescence. [1]
Ophthalamic:
Conjunctivitis (non-infectious) during flares,[1] or corneal haze. [26] MWS/NOMID crossover patients may have more eye involvement.
Cardiopulmonary:
Rare. [1]
Abdominal:
Some have abdominal pain with flares or other gastrointestinal issues. [1]
Lymphatic:
Rarely noted. [1]
Joints bones muscles cartilage:
Arthralgia, recurrent arthritis, stiffness and swelling with flares. [1]
Vasculitis:
Not noted. [1]
Amyloidosis:
Elevated serum amyloid (SAA). >25 % with secondary amyloidosis. [1], [9]
Abnormal labs:
High: ESR, CRP, SAA. Leukocytosis with flares. [1]
Search Keywords:
cryopyrin associated periodic syndrome, CAPS, muckle wells, muckle-wells, muckle wells syndrome, cold bumps, hearing loss rash, hearing loss fever rash, hearing loss, urticaria, cold urticaria, MWS, cold-induced urticaria, cold-induced, conjunctivitis, amyloidosis, amyloidosis rash hearing loss, red eyes, rash fever red eyes, rash fever red eyes hearing loss, arthralgia, arthritis, corneal haze, abdominal pain, negative ice cube test, cold triggered, cold-triggered, sensorineural, sensorineural hearing loss, amyloid, MWS/NOMID crossover, hereditary periodic fever, periodic fever, recurrent fever, deaf, deafness, hard of hearing, NLRP3, CIAS1, NALP3, joint pain, pain, pink eye, stiff joint, leg pain, hard to hear, hear, cannot hear, cold-triggered fever, cold, cold rash, amyloidosis, SAA, lymph, lymphadenopathy, lymph node, NLRP3-AID, NLRP3-AID-moderate, NLRP3-AID moderate, NLRP3 AID moderate, NLRP3 AID,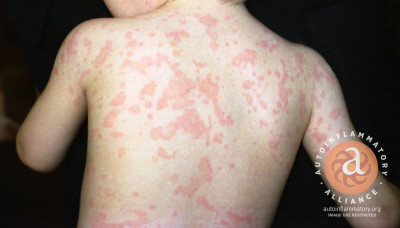 Photo credit:

Autoinflammatory Alliance image collection. Voluntarily supplied by patients. Image use restricted - contact karen@autoinflammatory.org
Resources:
Here is a helpful video overview on "Difficult to Treat CAPS" by Dr Jasmine Kuemmerle-Deschner, a leading expert on CAPS at the 2nd NIH-WRNMMC Symposium on Autoinflammatory and Immunedysregulatory Diseases that the Autoinflammatory Alliance co-sponsored and helped to organize in August 2019:

This video covers Adult-onset CAPS and other auto inflammatory diseases by Dr Helen Lachmann, a leading expert on CAPS at the 2nd NIH-WRNMMC Symposium on Autoinflammatory and Immunedysregulatory Diseases.