Adult-Onset Stills Disease – aka Adult Still's, Wissler-Fanconi Syndrome


Acronym:
AOSD

SAID group:
Macrophage Activation Diseases
Gene:
Currently unknown. No genetic tests are available at this time.
Inheritance:
Currently unknown.
Ethnicity:
Rare. Affects all races. [44]
Frequency:
France: estimated that 0.16:100,000 people have AOSD. AOSD affects more women than men. [44]
Timing of symptoms:
High fevers > 39°C that last for <4 hours, recurring more than once a week, with a maculopapular rash and arthralgia. [44]
Age of onset:
First onset of symptoms occurs between 16-35 years of age. Affects all ages. [44]
Skin cutaneous:
Evanescent, salmon-pink, mildly pruritic maculopapular rash on the proximal limbs and trunk. [44]
Neurologic:
>95% have high, spiking fevers, fatigue and myalgia with flares. Other neurological symptoms are very rarely seen. [44]
Auditory:
Not noted. [44]
Ophthalamic:
Not noted. [44]
Cardiopulmonary:
<25% have pleuritis (pleurisy), pericarditis (a few with tamponade). Some myocarditis, pleural effusions, Adult Respiratory Distress Syndrome (ARDS). [44]
Abdominal:
50-75% with hepatomegaly, abnormal liver function tests (LFTs). 43% with splenomegaly. Some with hepatosplenomegaly. Renal disease is rare. [44]
Lymphatic:
Lymphadenopathy is common. Many with splenomegaly. [44]
Joints bones muscles cartilage:
Myalgias, arthralgias and/or arthritis are common. Wrist changes after 6 months. 41% develop intercarpal and carpometacarpal joint space narrowing a few years after onset of AOSD – 25% then develop pericapitate ankylosis. [44]
Vasculitis:
Not noted. [44]
Amyloidosis:
Very rare. [44]
Abnormal labs:
High: ESR, CRP, LFTs, Ferritin, IL-18. Low glycosylated ferritin. Leukocytosis, anemia common with flares. Prolonged PTT: risk for disseminated intravascular coagulation (DIC). [44]
Search Keywords:
Adult-Onset Stills Disease, Stills, Still's, Stills syndrome, stills disease, Adult Still's, Wissler-Fanconi Syndrome, Wissler Fanconi, maculopapular rash, arthralgia, maculopapular, salmon-pink rash,rash, salmon pink rash, salmonpink, salmon pink, AOSD, Macrophage Activation, MAS, Macrophage activation syndrome, recurrent fever, periodic fever, fever arthritis, fever arthritis rash, fever arthritis rash macrophage activation, fever arthritis rash MAS, pleuritis, pleurisy, pericarditis, tamponade, myocarditis, pleural effusions, Adult Respiratory Distress Syndrome, ARDS, hepatomegaly, liver function tests, LFTs, splenomegaly, hepatosplenomegaly, lymphadenopathy, myalgias, arthritis, intercarpal joint space narrowing, carpometacarpal joint space narrowing, pericapitate ankylosis, ferritin, IL-18, anemia, disseminated intravascular coagulation, DIC, PTT, glycosylated ferritin, pulmonary, respiratory, pneumonia, joint pain, pain,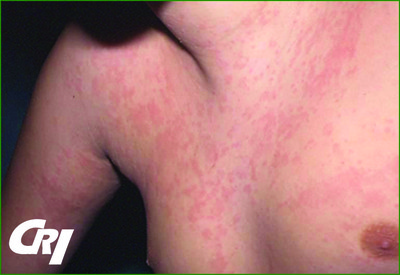 Photo credit:

Pr Bruno Fautrel (Service de Rhumatologie, Hôpital Salpétrière - Paris) Adult onset Still disease image 1/20. http://www.cri-net.com/baseimage/displayimg.asp?rubrique=still&img_nbr=1.
Resources: