SLC29A3 Spectrum Disorder – aka H. syndrome; Pigmented Hypertrichosis with Insulin-dependent Diabetes Mellitus (IDDM); Faisalabad Histiocytosis and Sinus Histiocytosis with Massive Lymphadenopathy


Acronym:
SLC29A3

SAID group:
SLC29A3 related
Gene:
SLC29A3
Inheritance:
Autosomal recessive.
Ethnicity:
Unknown. Many patients with Middle Eastern ancestry. Some from India, Pakistan, Spain, Bulgaria. [70]
Frequency:
Unknown but rare.
Timing of symptoms:
Fever 39°C with flares that last 7-10 days with joint and abdominal pain; pericarditis and sometimes diarrhea. Flares occur once every 2-3 months. [70]
Age of onset:
Onset in infancy-starting with recurrent fevers and flares. Chronic and progressive systemic symptoms develop. [69] [70] [71]
Skin cutaneous:
Hyperpigmentation with hypertrichosis. [69] [70] [71] [72] Some with notable varicose veins on the legs. [69]
Neurologic:
Fever 39°C with flares lasting over a week. [69] [70] Psychomotor impairment or delays. Dysmorphic facial features noted. [69] [70]
Auditory:
Sensorineural hearing loss, from early infancy or childhood. [69] [70]
Ophthalamic:
Uveitis. Vision loss or blindness can occur from anterior uveitis and glaucoma. Ptosis, eyelid swelling from histiocytic deposits are noted. [69] [70] [71]
Cardiopulmonary:
Pericarditis with flares. Cardiac defects noted: ASD, VSD, PDA, mitral valve prolapse, cardiomegaly and other findings. [69] [70]
Abdominal:
Diabetes Mellitus. Hepatosplenomegaly. Abdominal pain, diarrhea, failure to thrive. Hypogonadism. [69] [70]
Lymphatic:
Lymphadenopathy. Rosai-Dorfman sinus histiocytosis with massive lymphadenopathy. [69] [70] [71]
Joints bones muscles cartilage:
Short stature. Arthralgias. Dysmorphic facial features: triangular face, rotated ears, macrocrania, exophtalmia. Pectus excavatum, wide-set nipples, widened ribs, long bone changes, short, square hands, sacrococcygal dimple, contractures. [69] [70]
Vasculitis:
Not noted. Some with varicose veins on the legs. [69]
Amyloidosis:
Not noted. [69] [70] [71] [72]
Abnormal labs:
Chronically elevated, but increase during flares: CRP, ESR, WBC. High during flares: IgG, Ig A. Anemia. [69] [70] [71] [72]
Search Keywords:
SLC29A3 Spectrum Disorder, H. syndrome, Pigmented Hypertrichosis, Insulin-Dependent Diabetes Mellitus, IDDM, Faisalabad Histiocytosis, Sinus Histiocytosis, Massive Lymphadenopathy, SLC29A3,histiocytosis, pain, joint pain, abdominal pain, pericarditis, diarrhea, fever diarrhea diabetes, periodic fever, recurrent fever, periodic fevers, recurrent fevers, hyperpigmentation, hypertrichosis, varicose veins, Psychomotor impairment, delay,developmental delay, mental impairment, mental delay, cognitive delay, retardation, dysmorphic facial features, sensorineural hearing loss, deafness, deaf, hard of hearing, hearing, sensorineural, uveitis, vision loss, blindness, glaucoma. ptosis, eyelid swelling, histiocytic deposits, Cardiac defects,heart defects, cardiac, heart, atrial septal defect, ventricular septal defect, patent ductus arteriosis, hole in heart, ASD, VSD, PDA, mitral valve prolapse, cardiomegaly, diabetes mellitus, diabetes, hepatosplenomegaly, hepatomegaly, splenomegaly, large liver and spleen, enlarged liver and spleen, enlarged liver, enlarged spleen, abdominal pain, failure to thrive, growth delay, hypogonadism, Lymphadenopathy, Rosai-Dorfman, Rosai-Dorfman sinus histiocytosis, lymphadenopathy, short stature, arthralgias, triangular face, rotated ears, macrocrania, exophtalmia. pectus excavatum, wide-set nipples, widened ribs, long bone changes, short square hands, sacrococcygal dimple, contractures, IgG, Ig anemia, enlarged lymph nodes, square hands, dimple, sacral dimple, hear, hearing, cannot hear, hearing loss, rash,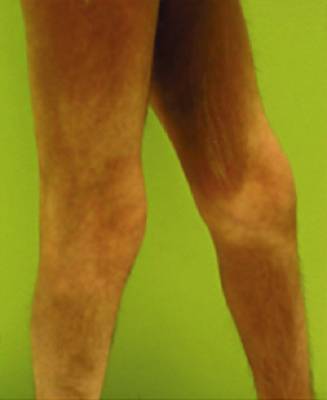 Photo credit:

Mutlu, G.Y., Ramot, Y., Babaoglu, K., Altun, G., Zlotogorski, A. and Molho-Pessach, V. (2013), Agenesis of the Inferior Vena Cava in H Syndrome Due to a Novel SLC29A3 Mutation. Pediatric Dermatology, 30:e70–e73. doi: 10.1111/pde.12085 Fig.1. Rights obtained for chart. http://onlinelibrary.wiley.com/doi/10.1111/pde.12085/abstract
Resources: