Deficiency of the Interleukin-36-Receptor Antagonist (DITRA) – aka Generalized Pustular Psoriasis (GPP)


Acronym:
DITRA/PSORP

SAID group:
Pyogenic Diseases
Gene:
IL36RN
Inheritance:
Autosomal recessive.
Ethnicity:
May affect all races. Patients with Caucasian, Spanish, Asian, African, Algerian or Tunisian ancestry. [58] [75] [77]
Frequency:
Unknown but rare. 1% of Sfax, Tunisians are carriers, with a 0.52% chance of having the disease in this population. [58]
Timing of symptoms:
Flares last days to weeks. Some with chronic symptoms. Most flare from triggers like: infections, stress, medication changes, during pregnancy or menstruation. [58]
Age of onset:
Variable age of onset. Many have symptoms starting in childhood. Some have symptoms beginning in adulthood. [58]
Skin cutaneous:
Recurrent, generalized pustular psoriasis and high fevers after erythematous rash. Some with acral pustules and nail damage, or chronic plaques. [58] [61]
Neurologic:
Sudden-onset high fever >40°C with chills. Some patients have a headache with the onset of the rash and fever, plus asthenia (muscle weakness) and tachycardia. [58] [61]
Auditory:
Not noted.[58] [61] [62]
Ophthalamic:
Not noted. [58] [61] [62]
Cardiopulmonary:
Tachycardia. Electrolyte imbalances can occur during fever and onset of pustular rash. Risk for cardiac arrest and septicemia. [58] [61]
Abdominal:
Nausea during flares. At risk for a loss of appetite. [58] [60] One infant patient noted with failure to thrive and diarrhea. [63]
Lymphatic:
Risk for renal and liver impairment and systemic infection with severe flares. [58] [61]
Joints bones muscles cartilage:
Asthenia (muscle weakness) during fevers and flares. Risk for inflammatory arthritis. [59] [61]
Vasculitis:
Not noted. [59] [60]
Amyloidosis:
Not noted. [59] [60]
Abnormal labs:
High during flares (in most patients): ESR, CRP, neutrophils, lactate levels. Low: plasma albumin, calcium, zinc. Risk for infections with flares. [59] [60]
Search Keywords:
Deficiency of Interleukin-36-Receptor Antagonist, DITRA, generalized pustular psoriasis, GPP, PSORP, pyogenic diseases, triggered, fever psoriasis, fever generalized pustular psoriasis, generalized pustular psoriasis fevers erythematous rash, erythema, erythematous, acral pustules, nail, nail damage, chronic plaques, acral, headache, asthenia, tachycardia, electrolyte imbalances, electrolytes, cardiac arrest, septicemia, failure to thrive, diarrhea, lactate , albumin, calcium, zinc, fever, psoriasis, muscle weakness, liver impairment, renal impairment, liver disease, kidney disease, arthritis, inflammatory arthritis, fingernail sores, nail sores. nail pustules, pyogenic, nail psoriasis, fingernail sores, fingernail psoriasis, fingernail pustules, fast pulse, Deficiency of the Interleukin-36 Receptor Antagonist,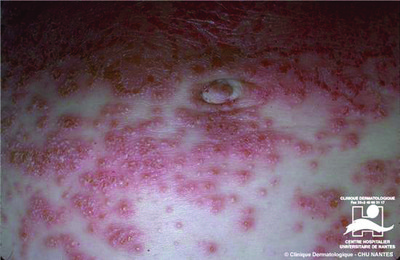 Photo credit:

Diepgen TL, Yihune G et al. Generalized Pustular Psoriasis. Dermatology Online Atlas. DermIS Dermatology Information System. Published online at: http://www.dermis.net/dermisroot/en/32493/image.htm
Resources: