CARD14-associated psoriasis, aka Familial Psoriasis (PSORS2), or CARD14-Mediated Pustular Psoriasis


Acronym:
CAMPS/PSORS2

SAID group:
CARD14-associated psoriasis, Pyogenic Diseases
Gene:
CARD14
Inheritance:
Autosomal dominant. Spontaneous mutations, and some familial groups. [23]
Ethnicity:
Most with European or Asian ancestry. Known patients in US, EU, Canada (Newfoundland), Haiti, and Taiwan. [23]
Frequency:
Unknown, but rare.
Timing of symptoms:
Continuous. Chronic pustular or plaque psoriasis triggered by inflammatory stimuli. Some cases with psoriatic arthritis. [23] [24]
Age of onset:
Variable age of onset from infancy or childhood to adulthood with pustular psoriasis. [23] [24]
Skin cutaneous:
Generalized pustular psoriasis (that can be severe), and/or plaque psoriasis. Sometimes nails are affected with psoriasis. [23] [24]
Neurologic:
Not seen. [23] [24]
Ophthalamic:
Not seen. [23] [24]
Cardiopulmonary:
Not seen. [23] [24]
Abdominal:
Not seen. [23] [24]
Lymphatic:
Not seen. [23] [24]
Joints bones muscles cartilage:
Intermittent joint pain, psoriatic arthritis. 30% of affected patients in one European family with PSORS2 also had psoriatic arthritis. [24]
Vasculitis:
Not seen. [23] [24]
Amyloidosis:
Not seen. [23] [24]
Abnormal labs:
Mildly elevated WBC. CRP and ESR are rarely elevated – and only during flares of symptoms. [56]
Search Keywords:
Familial Psoriasis PSORS2, CARD14-Mediated Pustular Psoriasis, CAMPS, Chronic pustular, pustular psoriasis, plaque psoriasis, triggered, psoriatic arthritis, nails, arthritis, psoriasis, pyogenic, nail psoriasis, nail pustules, nail sores, fingernail sores, fingernail psoriasis, fingernail pustules, CARD14, CARD14-associated psoriasis, CARD14 associated psoriasis,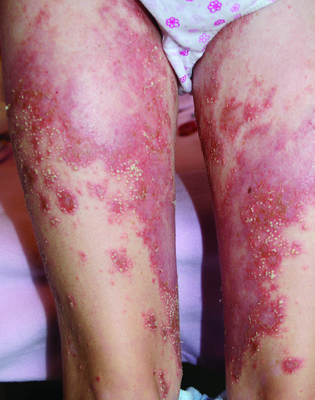 Photo credit:

Cohen, Bernard Pustular psoriasis on an 8 yr. old child. Uploaded 11/25/2006. http://dermatlas.med.jhmi.edu/image/pustularpsoriasis1_061124
Resources: