Pediatric Granulomatous Arthritis (PGA) – aka Juvenile Systemic Granulomatosis, Blau syndrome, Early Onset Sarcoidosis, or Jabs Syndrome, NOD2-associated disease-Blau


Acronym:
PGA/BLAU/EOS

SAID group:
NOD2-associated Granulomatous Disease
Gene:
NOD2 (certain mutations)
Inheritance:
Autosomal dominant.
Ethnicity:
Affects all races.
Frequency:
Unknown, but rare.
Timing of symptoms:
Intermittent or persistent daily fevers, rash and arthritis.
Age of onset:
Rash often develops by 4 months of age, fevers and other symptoms present by 4 years of age. [34]
Skin cutaneous:
First symptom: scaly plaques. The rash often starts on the face, then on the torso or chest. Biopsies with non-caseating granulomatous dermatitis. [34]
Neurologic:
Intermittent-persistent daily fevers. Some have cranial neuropathies. 80% have vision damage and joint deformities if untreated. Some cases have peripheral nerves affected. [34]
Auditory:
Not noted. [34]
Ophthalamic:
Uveitis (some with blindness). 50% with cataracts, 1:3 patients get secondary glaucoma. Inflamed conjunctiva (conjunctivitis), and/or inflammation of the lacrimal glands, retina and optic nerves is common. [34]
Cardiopulmonary:
Some have atrial hypertension and/or pericarditis. Some cases with lung involvement. [34] [35]
Abdominal:
Hepatomegaly, splenomegaly or hepatosplenomegaly. Some with abdominal pain, higher risk for kidney and/or liver issues. [34] [35] [36]
Lymphatic:
Splenomegaly, lymphadenopathy. [34] [35] [36]
Joints bones muscles cartilage:
Symmetrical chronic polyarthritis or oligoarthritis of the wrists, knees, ankles with a boggy appearance is usually caused by an exuberant tenosynovitis. [34] [35] [36]
Vasculitis:
Some with vasculitis, leukocytoclastic vasculitis. [34]
Amyloidosis:
Not noted. [34]
Abnormal labs:
High CRP and ESR, angiotensin converting enzyme (ACE), immunoglobulins. Anemia, leukopenia, eosinophilia, hematuria, proteinuria, pyuria, abnormal liver function tests (LFTs). [34] [36]
Search Keywords:
Pediatric Granulomatous Arthritis, PGA, Juvenile Systemic Granulomatosis, Blau syndrome, ACE, angiotensin converting enzyme, Early Onset Sarcoidosis, EOS, Jabs Syndrome, Jabs, NOD2, non-caseating granulomatous dermatitis, non-caseating , non-caseating granulomas, non caseating, non caseating granulomas, noncaseating, noncaseating granulomas, granulomatous, periodic fever, recurrent fever, persistent fever, cranial neuropathies, blindness, vision loss, joint deformities, Uveitis , cataracts, glaucoma, conjunctivitis, lacrimal, lacrimal inflammation, lacrimal gland, retinal inflammation, cranial neuropathy, neuropathies, atrial hypertension, pericarditis, hepatomegaly, splenomegaly, hepatosplenomegaly, abdominal pain, sarcoidosis, lymphadenopathy, polyarthritis, oligoarthritis, tenosynovitis, boggy joints, boggy, vasculitis, leukocytoclastic vasculitis, anemia, liver function tests, LFT, pain, joint pain, bumps, swollen joints, leg pain, abdominal swelling,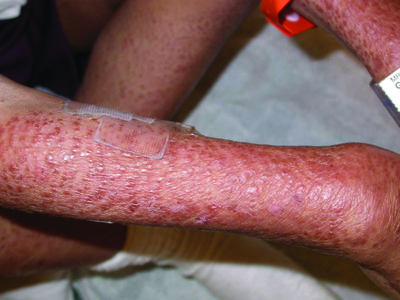 Photo credit:

Glass 2nd, D. A., Maender, J., & Metry, D. (2009). Two pediatric cases of Blau syndrome. Dermatol Online J, 15(5). Retrieved from http://dermatology.cdlib.org/1512/articles/blau/glass.html
Resources: