PSTPIP1-associated Arthritis, pyoderma gangrenosum and acne (PAPA), aka Pyogenic Sterile Arthritis, Pyoderma Gangrenosum, and Acne Syndrome


Acronym:
PAPA

SAID group:
Pyogenic Diseases
Gene:
PSTPIP1
Inheritance:
Autosomal dominant. Spontaneous mutations, with some familial groups. [29] [30]
Ethnicity:
Currently, the only documented cases are from Europe, New Zealand and the USA. [30]
Frequency:
Unknown, but rare.
Timing of symptoms:
Early-onset, destructive, recurrent inflammation of the joints, skin and muscle. Flares often occur after mild injury, or injections. [29]
Age of onset:
First symptoms of arthritis develop by 1-10 years of age, and skin lesions develop during adolescence. [29] [32]
Skin cutaneous:
Pathergy. Pyoderma gangrenosum ulcerative lesions, and/or severe cystic acne. Affected tissues with high neutrophil infiltration. [29]
Neurologic:
Fevers can accompany flares of joint inflammation and pain. Other neurological symptoms are not noted. [31]
Auditory:
Not noted. [29] [30] [31]
Ophthalamic:
Not noted. [29] [30] [31]
Cardiopulmonary:
Not noted. [29] [30] [31]
Abdominal:
Some patients also have irritable bowel syndrome. [29]
Lymphatic:
Not noted. [29] [30] [31]
Joints bones muscles cartilage:
Episodic inflammatory arthritis, often affecting one joint at a time that doesn't resolve on it's own. Intermittent sterile pauciarticular, peripheral erosive arthritis. Joint damage and destruction can often develop from the arthritis. [29] [30] [31] [32] [55]
Vasculitis:
Not noted. [29]
Amyloidosis:
Not noted. [29]
Abnormal labs:
Cultures of the bone and skin are negative. Purulent synovial fluid is full of neutrophils. High with flares: CRP, ESR, WBC. [29] [30] [32]
Search Keywords:
Pyogenic Sterile Arthritis Pyoderma Gangrenosum Acne Syndrome, PAPA, pyogenic arthritis, pyogenic sterile arthritis, pyoderma gangrenosum, Pyogenic Diseases, PSTPIP1, triggered, induced, destructive, inflammation joints, skin inflammation, muscle inflammation, arthritis, Pathergy, Pyoderma gangrenosum ulcerative lesions, cystic acne, fever pyoderma gangrenosum, fever pyogenic arthritis, recurrent fever, irritable bowl syndrome, IBS, inflammatory bowel disease, erosive arthritis, joint damage, pauciarticular, Purulent synovial fluid, pain, fever, injury triggered, injury, joint pain, inflammatory arthritis, pustule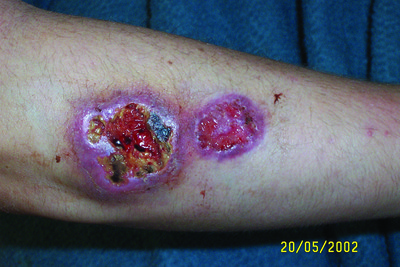 Photo credit:

Pyoderma Gangrenosum, often seen in PAPA - DermAtlas - Dermatology Image Atlas uploaded 9/18/2002. http://dermatlas.med.jhmi.edu/image/pyodermagangrenosum1_020918
Resources: