NLRC4-associated Autoinflammatory Disease, NLRC4-associated Macrophage Activation-like Syndrome (NLRC4-MAS)


Acronym:
NLRC4-AID, NLRC4-MAS

SAID group:
NLRC4-associated autoinflammatory diseases, Macrophage Activation Diseases
Gene:
NLRC4 (aka SCAN4, CARD12)
Inheritance:
Autosomal dominant.
Ethnicity:
Not noted.
Frequency:
Unknown-rare
Timing of symptoms:
Injury, surgery or other stressors (physical or emotional) can trigger systemic flares of fever and macrophage activation syndrome (MAS)-like symptoms that can persist for weeks. [95]
Age of onset:
Infancy, early childhood - some at birth. [94] [95]
Skin cutaneous:
Evanescent rash with occasional dermatographism, with a notable urticarial rash during disease flares. [94] Adult with seronegative psoriatic arthritis, and erythematous plaques. [95]
Neurologic:
Recurrent fevers, starting in early infancy. [94] [95] Uncommon for other CNS symptoms. [98].
Auditory:
Not noted [94] [95] [98]
Ophthalamic:
Not noted [94] [95] [98]
Cardiopulmonary:
Risk for multiple-organ failure, disseminated intravascular coagulation (DIC), macrophage activation syndrome (MAS)-like attacks, with Acute Respiratory Distress Syndrome (ARDS). [95]
Abdominal:
Failure to thrive, or challenges with weight gain is common. Vomiting and diarrhea during flares. Splenomegaly, transaminitis. Inflammatory infiltrates are noted in the intestine. Duodenitis, neonatal-onset enterocolitis noted (may resolve after 1 yr of age). [94] [95] [98] High risk for multiple organ failure with MAS-like attacks. [95]
Lymphatic:
Splenomegaly.[94] [95] Lymphadenopathy may occur. [98]
Joints bones muscles cartilage:
Short stature, low weight in one case. [95] Arthralgia, myalgia, and psoriatic arthriitis noted in an adult patient. [95]
Vasculitis:
Not noted [94], [95]
Amyloidosis:
Not noted [94], [95]
Abnormal labs:
High (during flares): CRP, ESR, IL-18, triglycerides, ferritin (extreme ferritinemia), ALT, AST. Over-production of IL-1β and IL-18. Low during MAS-like flares): hemoglobin, platelets (thromobocytopenia), anemia, leukopenia. Normal NK cell function. [94].
Search Keywords:
NLRC4-associated autoinflammatory disease, NLRC4 associated autoinflammatory disease, NLRC4-AID, NLRC4 Macrophage Activation-like Syndrome, NLRC4-MAS, Familal Cold Autoinflammatory Syndrome 4, FCAS4, NLRC4, SCAN4, CARD12, macrophage activation syndrome,MAS, macrophage, rash, evanescent rash, dermatographism, urticaria, cold-induced, cold-triggered, cold induced, cold triggered, periodic fever, recurrent fever, fever, organ failure, disseminated intravascular coagulation, DIC, acute respiratory distress syndrome, respiratory distress, respiratory, pulmonary, ARDS, failure to thrive, vomiting, diarrhea splenomegaly, enlarged spleen, large spleen, transaminitis, duodenitis, neonatal-onset enterocolitis, enterocolitis, colitis, lymphadenopathy, impaired growth, growth delay, short stature, pain, joint pain, leg pain, arthralgia, myalgia, psoriatic arthriitis, arthritis, triglycerides, ferritin, IL-18, anemia, thromobocytopenia, leukopenia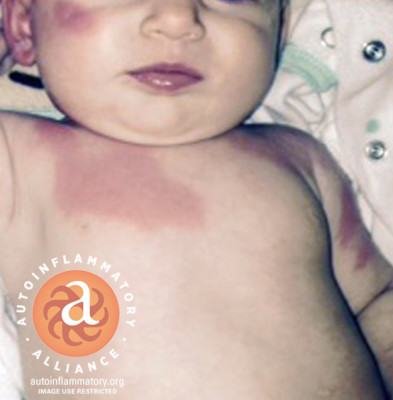 Photo credit:

Autoinflammatory Alliance image collection. Voluntarily supplied by patients. Image use restricted - contact karen@autoinflammatory.org
Resources: