Sweet's Syndrome (SS); aka Acute Febrile Neutrophilic Dermatosis


Acronym:
Sweet's (SS)

SAID group:
Neutrophilic Dermatoses
Gene:
Unknown at this time. More common in carriers of HLA-B54.
Inheritance:
Unknown
Ethnicity:
Affects all races.
Frequency:
Rare. One study found the incidence to be 3 per 10,000 amongst new dermatologic patients in Iran. [99]
Timing of symptoms:
Fevers, often for many days-weeks. Fever may preclude or happen at the onset of other SS symptoms. [97] 1/3 to 2/3 of patients have recurrent Sweets symptoms. Other cases involve a single episode of symptoms in their lifetime. Three forms: Classical/idiopathic SS, drug-induced (DISS), or malignancy-associated Sweet's syndrome (MASS). [97]
Age of onset:
Adulthood, more frequently in middle-aged women, but also in men. It rarely presents in infants or children. [96] Sweet's presents in response to some trigger, such as infection, inflammation (IBD/Crohns/UC), autoimmune diseases, vaccinations, cancers, or certain medications. [96]
Skin cutaneous:
Cutaneous pathergy. Multiple painful and tender skin lesions varying from papules and vesicles to wide, thick, swollen plaques. The most common areas for the rash is on the neck, face, upper chest, back and limbs. Some have sores only in areas that are exposed to the sun. [96] Lesions can be annular (ringed), pseudovesicular, and may look like atypical pyoderma gangrenosum. [96] Apthous, or mucosal ulcers (even ocular ulcers at times). [96] Some have erythema nodosum. [97] Skin biopsy: Neutrophillic inflammation and leukocytoclasia without vasculitis. MASS cases may also present with additional findings like leukemia cutis. [96] [97] Subcutaneous Sweet's affects deeper tissues and may resemble cellulitis. [96] Neutrophillic dermatosis of the hands (variant Sweet's) causes violaceous nodules, mostly on the top of the hands and digits than on the palms. [96] Histocytoid Sweet's is associated with malignancies or rheumatoid arthritis, with myeloid cell infiltration on the biopsy instead of neutrophils. Nodules, lesions, or plaques are oval, red to violet or brownish. [96]
Neurologic:
Fevers lasting many days to weeks before the onset of symptoms and during flare. [97] (Fever may be absent in MASS presentations). Headache, fatigue and malaise are common. [96] Neuro-Sweet's disease (rare). A few cases with CNS involvement, aseptic meningitis, and/or encephalitis. [97]
Auditory:
Some cases with pustules or plaques in the exterior auditory canal and the tympanic membrane. A few cases with sensorineural hearing loss (in Neuro-Sweet's). [97]
Ophthalamic:
Ocular Sweet's Syndrome can affect vision, presents with painful, "sticky" eyes that can develop ocular ulcers. [96] At risk for conjunctivitis, conjunctival hemmorhage, blepharitis, iritis, uveitis, keratitis, episleritis, scleritis, acryoadenitis, choroiditis, periocular swelling, and/or glaucoma. [96] [97]
Cardiopulmonary:
Respiratory infection is a common precursor to the onset of idiopathic SS symptoms. [97] Blood cancers, most commonly acute myelogenous leukemia (AML) can lead to an onset of MASS. [97] Some cases with concurrent aortic stenosis, cardiomegaly, vascular dilation, neutrophillic myocardial infiltration, and heart failure, or other cardiac conditions. [97] A few cases with pharangeal mucosal infiltration, swelling and upper airway obstruction, pleural effusion, bronchial pustules and inflammation. [97]
Abdominal:
Higher risk for inflammatory bowl diseases (IBD) such as Crohns and ulcerative colitis. [96] 11-50% of idiopathic SS have abnormal renal function. [97] Pregnancy can trigger idiopathic SS [96] [97] Hepatomegaly, splenomegaly in some cases. Some cases with: neutrophillic inflammation in the intestines, or in the hepatic portal. Inflammatory bowel disease (IBD), Crohns, or ulcerative colitis may trigger Sweet's. Hematuria, proteinuria, glomerulonephritis. [97]
Lymphatic:
Splenomegaly. Some with lymphadenopathy. [97]
Joints bones muscles cartilage:
Arthralgia, arthritis. Some with relapsing polychondritis. Sweet's may present in patients that also have Rheumatoid Arthritis (RA), Systemic Lupus Erythematosis (SLE), Stills (AOSD) or sarcoidosis. [96] Some cases with osteitis, or CRMO/SAPHO. Children may have dermatosis-related sterile osteomyelitis. [97]
Vasculitis:
Absent in Sweet's. [96]
Amyloidosis:
Not noted. [96] [97]
Abnormal labs:
High (when symptomatic): ESR, CRP, neutrophil leukocytosis, p-ANCA or c-ANCA is sometimes noted. If associated with a blood cancer or other malignancy there are altered (high or low) levels of RBCs, WBCs, platelets, or bone marrow biopsy findings. [96]
Search Keywords:
Sweet's Syndrome, Sweet's, Acute Febrile Neutrophilic Dermatosis, Neutrophilic Dermatoses, HLA B54, malignancy-associated Sweet's syndrome, vaccine-triggered, vaccine-induced, vaccine triggered, vaccine rash, vaccine induced, plaques, rheumatoid arthritis, drug induced Sweet's syndrome, pathergy, papules, vesicles, annular, ringed, pseudovesicular, atypical pyoderma gangrenosum, apthous ulcers, mouth ulcers, rash, mucosal ulcers, ocular ulcers, eye ulcers, mouth sores, leukocytoclasia, leukemia cutis, subcutaneous Sweet's, violacious nodules, purple nodules, violet nodules, headache, fatigue, aseptic meningitis, encephalitis, neuro Sweet's, neuro sweets, neuro sweet's, pustules, conjunctivitis, conjunctival hemmorhage, blepharitis, iritis, uveitis, keratitis, episleritis, scleritis, acryoadenitis, choroiditis, periocular swelling, glaucoma, acute myelogenous leukemia, AML, ideopathic Sweet's, aortic stenosis, cardiomegaly, cardiac, vascular dilation, neutrophillic myocardial infiltration, cardiac failure, cardiac, upper airway obstruction, pleural effusion, bronchial pustules, inflammatory bowel disease, IBD, Crohns, ulcerative colitis, colitis, hematuria, proteinuria, glomerulonephritis, splenomegaly, lymphadenopathy, Arthralgia, arthritis, relapsing polychondritis. polychondritis, Rheumatoid Arthritis, RA, Systemic Lupus Erythematosis, SLE, Stills, AOSD, sarcoidosis, osteitis, CRMO, SAPHO, dermatosis-related sterile osteomyelitis, enlarged liver and spleen, large liver, large spleen, enlarged liver, enlarged spleen, chondritis, bone pain, leg pain, osteomyelitis, vaccines, vaccine, vaccinated,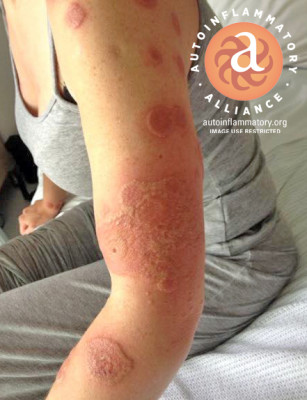 Photo credit:

Autoinflammatory Alliance image collection. Voluntarily supplied by patients. Image use restricted - contact karen@autoinflammatory.org
Resources: