Familial Mediterranean Fever


Acronym:
FMF

SAID group:
Pyrin-associated Autoinflammatory Diseases (PAAD)
Gene:
MEFV
Inheritance:
Autosomal recessive in the majority of patients. Some cases have gene-dosage-dependent autosomal dominant inheritance. [10]
Ethnicity:
Turk, Armenian, Arab, Sephardic Jew, Italian. [1] FMF is the most common inherited periodic fever syndrome.
Frequency:
In specific ethnic groups, the carrier frequency of MEFV variants is up to 1:5 people. [1]
Timing of symptoms:
12-72 hours. [1] [9] Recurrent fever and flares can occur weekly, or only a few times a year.
Age of onset:
Infancy, to under 20 years of age for the onset of the first symptoms. [9] Adult-onset is uncommon, but can occur.
Skin cutaneous:
Erysipeloid (erysipelas-like) erythema on the ankle–foot–below knee region that lasts 2-3 days during flares of symptoms. [1]
Neurologic:
Fevers. Acute aseptic meningitis is rare and can occur during flares, but is never chronic. [1] Other neurological involvement is very rarely seen in FMF.
Auditory:
Uncommon–not believed to be caused by a FMF disorder. [1]
Ophthalamic:
Very rare to uncommon. [1]
Cardiopulmonary:
45% have pleuritis, painful respiration with flares. Some with pericarditis. [1]
Abdominal:
Sterile peritonitis, pain, and/or constipation with flares. Splenomegaly. [1] Some cases of inflammation causing appendicitis symptoms, but the appendix is inflamed, not infected.
Lymphatic:
Splenomegaly is common. Some have lymphadenopathy. [1]
Joints bones muscles cartilage:
Mono or polyarthritis, oligoarthritis and clubbing are common. Ankle arthralgias are common. Severe arthritis of the hip or ankle is rare. [1]
Vasculitis:
Henoch-Schönlein purpura (HSP), polyarteritis nodosa (PAN). [1]
Amyloidosis:
Secondary Amyloidosis is common. >50% in untreated patients; it depends on genotype. [9]
Abnormal labs:
High: ESR, CRP, SAA between flares. Fibrinogen, leukocytosis present with flares. [1] M694V and some with V726A mutations have higher risk for elevated IgD, and higher risk of more notable FMF symptoms, especially arthritis. [127] Elevated serum IgD levels 10% to 13% of patients with FMF (and TRAPS) [128]
Search Keywords:
familial mediterranean fever, mediterranean fever, mediterranean, FMF, MEFV, amyloidosis, periodic fever, hereditary periodic fever, recurrent fever, erysipeloid erythema, ankle arthralgia, Turk, Armenian, Arab, Sephardic Jew, Jew, rash, ankle rash, IgD, elevated IgD, joint swelling, arthritis, Italian, IgD, amyloidosis, amyloid, Henoch-Schönlein purpura, HSP, polyarteritis nodosa, PAN, oligoarthritis, clubbing, arthralgias, polyarthritis, oligoarthritis, splenomegaly, fever, pain, lymphadenopathy, pleuritis, pericarditis, peritonitis, constipation, acute aseptic meningitis, erysipelas, erysipelas-like erythema, erythema, fatigue, fever, joint pain, ankle pain, leg pain, aseptic meningitis, hereditary fever, abdominal pain, enlarged spleen, pain, adult onset, chest pain, appendix, appendicitis, amyloid, SAA, lymph, lymphadenopathy, lymph node, pyrin associated autoinflammatory disease, pyrin-associated autoinflammatory disease, PAAD, Turkish, Jewish, Armenia, Arabic, Italy, middle east, middle eastern, abdominal pain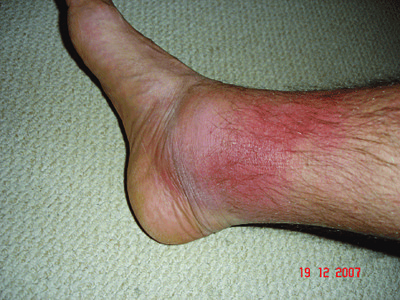 Photo credit:

Lachmann, H. J., & Hawkins, P. N. (2009). Developments in the scientific and clinical understanding of autoinflammatory disorders. Arthritis Res Ther, 11(1), 212
Resources:
This lecture by Dr Anna Simon, a leading autoinflammatory expert was given on June 23, 2017 at The Garvan Institute Autoinflammatory Diseases Symposium, and covers the diagnosis and treatment of FMF, and other autoinflammatory diseases:

This lecture by Dr Daniel Kastner, a leading expert on autoinflammatory diseases who discovered the gene for FMF, titled "Adventures in the Genomics of Inflammation" from 2011 also covers FMF.