Tumor Necrosis Factor (TNF) - Associated Periodic Syndrome (aka Familial Hibernian Fever)


Acronym:
TRAPS

SAID group:
TNF-associated Autoinflammatory Diseases, Protein Folding
Gene:
TNFRSF1A
Inheritance:
Autosomal dominant. Spontaneous mutations, with some familial groups. [1]
Ethnicity:
Affects all races. Second most common inherited SAID (after FMF). [1]
Frequency:
Unknown. TRAPS affects 0.01:10,000 people in the European Union. [51] >1000 patients worldwide. [52]
Timing of symptoms:
Days to weeks. An average flare lasts around three weeks. [1] [9]
Age of onset:
Most first attacks occur by 3 years of age, and almost all begin by 20 years of age. A few have symptoms start later in life. [9]
Skin cutaneous:
Migrating rash with deep pain under the areas with the rash. Severe pain follows the rash path from the trunk outwards to the limbs. [9]
Neurologic:
Fevers lasting >3 days at over 38°C with flares. Some have headaches with flares of symptoms. [1] [9]
Auditory:
Uncommon–not believed to be caused by TRAPS. [1]
Ophthalamic:
Conjunctivitis, and periorbital edema during flares. [1] [9]
Cardiopulmonary:
Common, including pleurisy. [1]
Abdominal:
Abdominal pain, peritonitis, diarrhea, and constipation with flares. Splenomegaly. [1]
Lymphatic:
Splenomegaly is common; some have lymphadeopathy. [1]
Joints bones muscles cartilage:
Intermittent or chronic arthritis in the large joints with muscle pain and swelling is common. [1]
Vasculitis:
Henoch-Schönlein purpura (HSP), lymphocytic vasculitis. [1]
Amyloidosis:
10-20% occurrence. Higher risk with a cysteine mutation. [9]
Abnormal labs:
High: ESR, CRP, SAA. Polymorphonuclear neutrophils (PMNs), polyclonalgammopathy, leukocytosis. [1] Elevated serum IgD levels10% to 13% of patients with TRAPS (elevated in some with other autoinflammatory diseases too, such as HIDS, MA, FMF, PFAPA) [128]
Search Keywords:
Tumor Necrosis Factor Associated Periodic Syndrome, familial hibernian fever, TRAPS, TRAPS syndrome, periodic fever, hereditary periodic fever, recurrent fever, rash fever pain, rash fever pleurisy, rash fever diarrhea, rash fever constipation, fever periorbital edema, migrating rash fever pain, Protein Folding, TNFRSF1A, Migrating painful rash, pain rash, painful migrating rash, deep tissue pain rash fever, headache, conjunctivitis, periorbital edema,eyelid swelling, pleurisy, peritonitis, diarrhea, constipation, splenomegaly, arthritis, Henoch-Schönlein purpura, HSP, lymphocytic vasculitis, vasculitis, amyloidosis, amyloid, IgD, elevated IgD, migrating rash, joint pain, leg pain, muscle pain, abdominal pain, Hibernian fever, TNFRSF1A, prolonged fevers, long flares, chest pain, pain, enlarged spleen, large spleen, SAA, lymph, lymphadenopathy, lymph node, TNF associated, TNF associated autoinflammatory disease, abdominal pain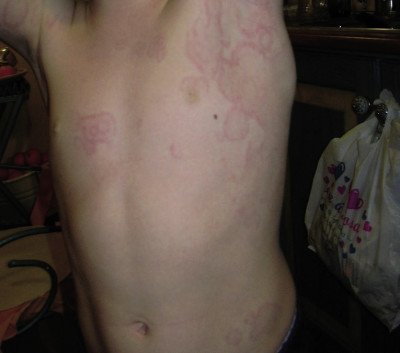 Photo credit:

Federici, S., Caorsi, R., & Gattorno, M. (2012). The autoinflammatory diseases. Swiss medical weekly, 142, 0.
Resources:
Here is a helpful video overview on "Difficult to Treat TRAPS" by Dr Marco Gattorno, a leading expert on autoinflammatory diseases at the 2nd NIH-WRNMMC Symposium on Autoinflammatory and Immunedysregulatory Diseases that the Autoinflammatory Alliance co-sponsored and helped to organize in August 2019: